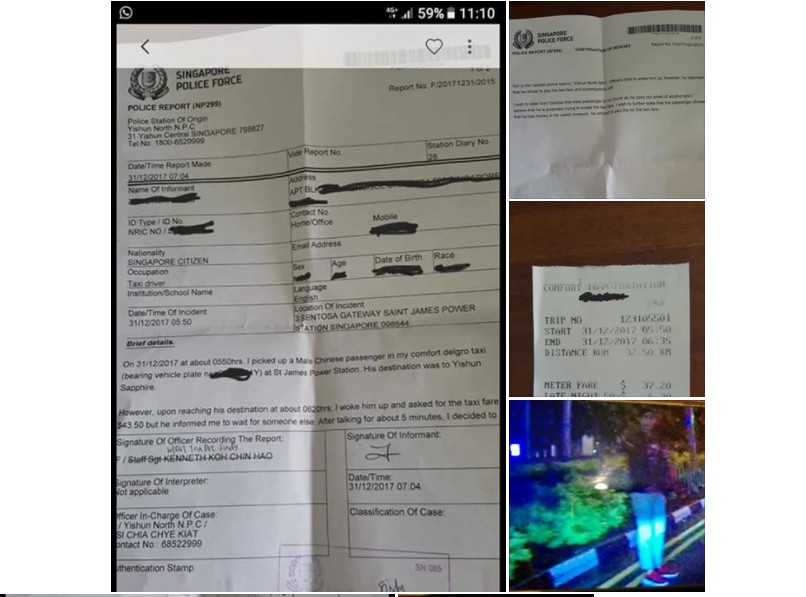 Got a Chinese pax aged 23-25 at sentosa to Yishun sapphire.
Reaching destination and pax pretending to be drunk and only not willing to pay. And asked me to wait.
After talking for 5mins. I suggested we go to the police station. He firmly replied me let's go. I have asked the condominium security officer the nearest police station.
At Yishun police station, I'm very disappointed with police assistance. Officer told me pax not willing to pay the taxi fares and nothing they can do except for me to log a police report.
Pax still took out his money and showed to the officers that he have the money but don't want to pay the fare. Because I did not send him to his destination.
I thought taxi evading is a serious offence!!? If this pax can go scot-free.. I believe there are more and more ppl evading fares and drivers will have a tougher times with no security.
For my past experiences and friends experiences.. I have high trust for the police efficiency that they can really do something to help us drivers. But this incident.. I felt very disappointed in Police officers cause they only tell me I can only file a police report. Maybe times have changed and laws have change which I didn't know….
Pax is intelligent. Midnight hours taking cab from sentosa to Yishun. Then not willing to pay the meter fares $43.50 . Ended at police station, still not willing to pay. From police station take a cab back home is less than $10. Good move ya
Source: FB post by Tang Colin