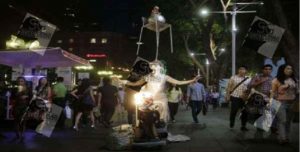 Silver Man" aka street busker was accused of actively asking for tips by a member of public who lodged a report which lead him to arrest by police gotten on the wrong side of the law yesterday night.
Mr Payamal disagrees that he was flouting any of the guidelines as buskers are not allowed to actively solicit for gratuity.
Mr Payamal, 53, told reporters after his discharge that he assumed that his obviously loud voice could have led to a misunderstanding. He had told the male police officer to communicate to him in English as the police officer had been talking to his colleague in Mandarin during the conflict with the police,
"I'm fine. It's just a misinterpretation" Mr Payamal said after the incident, My voice is naturally loud as an entertainer and a rocker but it just sounded to them like I'm shouting.
"I did explain to the officer in the station and she understood me. I was treated very well at the station and so I really appreciated that and thanked them before I left."
Sales manager Eric Fong lodged a grievance about the police officers in relation to this incident reproving the police of mishandling their power. The incident of his arrest on Facebook was circulated and went viral after shared.