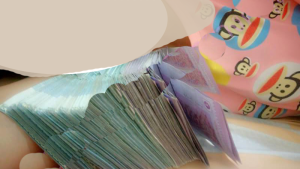 Thailand nationals working as "models" in clubs and discos flaunting their earnings on social media.
About Thai girls working in Malaysia and Singapore.
They might be people here to seduce you,your husband or to cheat money out of you. But remb, no supply no demand.
You can't blame them for making a living. Here is the average earning of a girl showing it on her LINE timeline. Looks like a few hundred thousand ringgit. Girls in Thai disco has always been a topic among netizens. How is it legal? There are a few ways of getting them in which I suspect a few might involve bride of custom officials. Some would try their luck by coming is as tourist.
Another way is where the boss of the company employ them as professional singer,dancers or performers. This places of interest is fun to visit but never fall in too deep. An acquaintance of mine who likes to dress like a man, was into the Thai girls that he/she bought the girl the latest iPhone and give daily flowers of 500 singapore dollars a night which she/he used by swiping her/his credit card. End up being a bankrupt.
 When the girl finish her "workcation" she will be gone forever. Or worse case she comes back to get more from you. Some even invite their customers to Thailand to make them buy luxury items for them.
At least a guy might get some "action" at the end of the day. Why not visit our local geylang for action? Reason is because of companionship.and aka GFE " girl friend effect". Our brothers from our famous forums will explain to you if you don't understand.