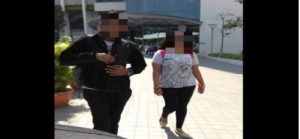 HI ALL,
My wallet was stolen on 11 April 2017 at SIM at around 3pm.
I'm just fortunate I have people who saw and took evidence of the two desperate regular theft. Attached is the photo of the money face that needs to be in the light of attention.
Here's a note to the both of you: CCTV has already captured ur face. Another of your crime is just another lead for us to look for you. I have alr make a police report and If you are still holding on to my wallet, I will give you a chance to return my valuables in it as they are important and you can have the money if u really need that. And I will let it go.
Don't be a coward. Money is to be earned not stolen. You got no idea how much I have to worked for to earn the other valuable things I have in my wallet.
PM my fb if anyone see this two people. THANK YOU.
AND FOR YOU TWO, PM ME IF U WANT TO.
PLEASE HELP TO SPREAD AND FIND MY WALLET AND PREVENT OTHERS FROM BECOMING THE NEXT VICTIM! THANKS. #findluluwallet#simregularthief
facebook post:https://www.facebook.com/photo.php?fbid=10208764310850081&set=a.1830366003866.2088922.1381831697&type=3