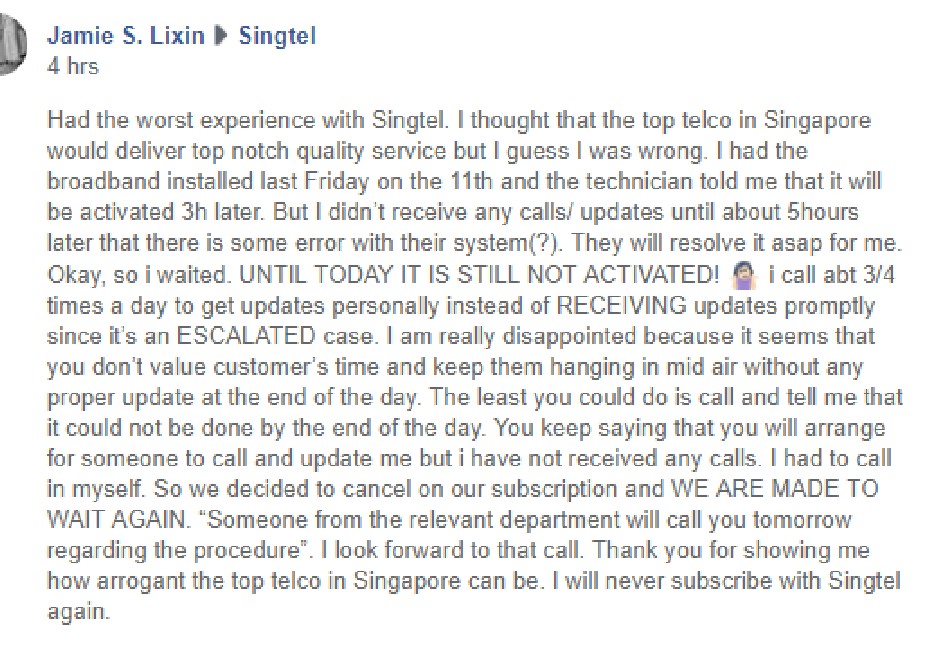 Had the worst experience with Singtel. I thought that the top telco in Singapore would deliver top notch quality service but I guess I was wrong. I had the broadband installed last Friday on the 11th and the technician told me that it will be activated 3h later.
But I didn't receive any calls/ updates until about 5hours later that there is some error with their system(?). They will resolve it asap for me. Okay, so i waited. UNTIL TODAY IT IS STILL NOT ACTIVATED! 
🤷🏻‍♀️ i call abt 3/4 times a day to get updates personally instead of RECEIVING updates promptly since it's an ESCALATED case. I am really disappointed because it seems that you don't value customer's time and keep them hanging in mid air without any proper update at the end of the day.
The least you could do is call and tell me that it could not be done by the end of the day. You keep saying that you will arrange for someone to call and update me but i have not received any calls. I had to call in myself. So we decided to cancel on our subscription and WE ARE MADE TO WAIT AGAIN.
"Someone from the relevant department will call you tomorrow regarding the procedure".
I look forward to that call. Thank you for showing me how arrogant the top telco in Singapore can be. I will never subscribe with Singtel again.