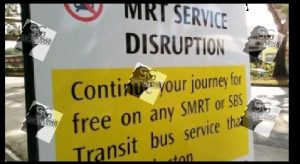 Wah sibei smart. If i don't go to work on time i have to wake up earlier to go work? Or am i supposed to go later?
What kind of excuse is this for not making proper maintenance to the MRT. Hey remember we are paying for the fare for this transport service. For not providing proper service and ask the people to go work earlier etc is a complete excuse.
This is a fine example what this contributor is talking about.
Consumer: "eh my note 7 charge to 100% will explode"
Company: "then charge to 90% la"
So i'm' suppose to pay for a product or service and get less?
" We have to seek mutual understanding that the trains indeed belongs to all of us, but we have to really choose among ourselves as to who to take the train and who to seek other form of public transport. "

 
mai kong jiao wei la. Don't talk cock with me. If it's possible i believe many have already do so rather than complaining online. If the MRT is not a crucial part of Singapore's infrastructure it would not have caused such a huge hoo-hah. It's like you're saying elevator only serve to the 8th floor. Oh the rest of the 92 floors you have to take stairs.
Think you sell chicken rice ah? today chicken rice sell finish go eat duck rice?
Who has the luxury of using so much time to take 5-6bus to go work?
According To The Latest B*S Survey, Singaporeans More Happy About MRT Service In 2016