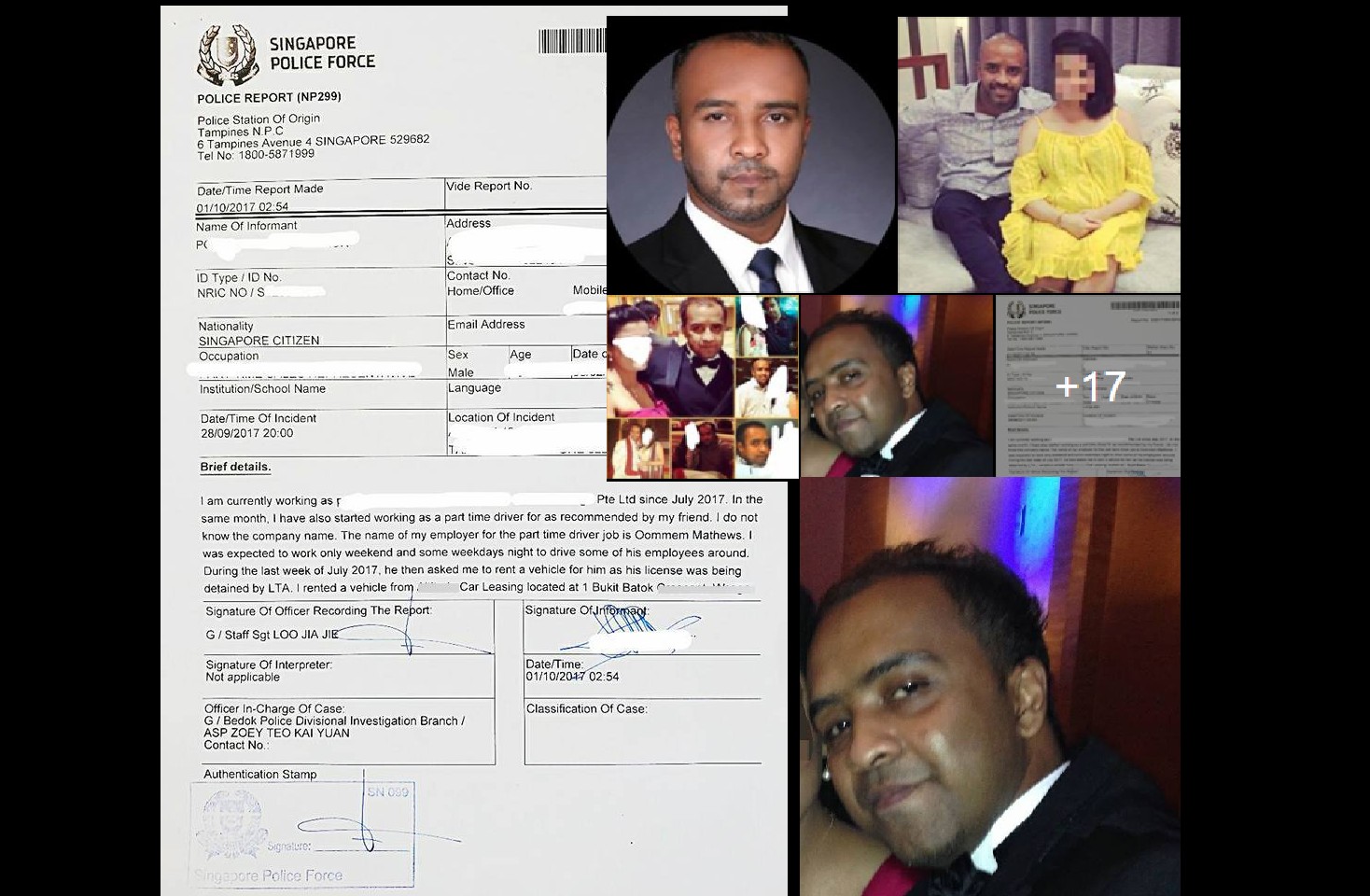 <FACEBOOK POST BY: ARTHUR POH>
🆘
⚠
⚠
⚠ 
⚠
Pm me or contact 83011493 if you spot this scammers
#OommenMathews #NatashaSuresh
Hi everyone. Do spare me a minute by reading through this post. I'm a 60 years old man and I've been scammed by this young indian couple. They are currently still hiding and hurting innocent people out there.
If you know them or seen them somewhere, pm me or contact 83011493. I've no alternative choice to post here as I'm faced with numerous charges, debts and lawsuits bcos of their ignorance. See attached pictures thks.
Oommen Mathews is currently driving a rented black Mercedes and residing at #SeletarParkResidence of a rented penthouse unit.
https://www.facebook.com/jo.mathews.399
Name: Oommen Mathews
Nicknames: Jo, Joe, Joel , Jason King, Mike
Age: 35yrs (1982)
Nationality: Singaporean Indian
About him: Dark-brown skin tone, below 172cm tall, not fit or plump. He normally dressed in formal/smart attire when he's out. When he sits, he will shake his legs while talking/smoking. Round face with full denture and hairy body.
He conned me into how "successful, kind & humble" he was, targeted kind people to work for him so he could scam for our hard earned savings and sympathy. He is truly a cunning con artist to be exact. I heard from people that worked with him before said I wasn't the only one being scammed along with the help of his loyal compliance/girlfriend, Natasha Suresh (22yrs, SG Indian)
https://www.facebook.com/nattyfied
On 29th July 2017, there was a hit and run car accident happened at Chin Swee road and junction of York Hill. The driver escaped from the scene was Oommen Mathews of rented vehicle SKW5600J after crashing into a roadside pavement at York Hill. He told me he would bear the responsibility and lodge a police report as the vehicle was rented under my name but he didn't. I've a recorded call of our conversation that he would threaten to hurt my friend "jialat jialat" if i lodged anything against him.
Fortunately, this matter is under police's investigation already. I've evidence and witnesses to prove that I'm being scammed by them. Oommen is currently under warrant arrest for his unpaid fines.
PLEASE HELP, EVERYONE! They must be nab and punished by the law for their acts.
#Singaporetrafficpolice #spf #singaporepoliceforce #conman#singaporescams #LTA #singaporescammers #stompsg #2017scams#mothershipsg #thestraittimes #lianhezaobao #thenewpaper #wanbao#singaporenews #topscams #coward #singaporeindian #greenwichv#singaporecrime #punggolfield #punggol #joelmathews #stompstraittimes#reigngainers #jmsilvertoncorp #Natashasuresh
<FACEBOOK POST BY: ARTHUR POH>